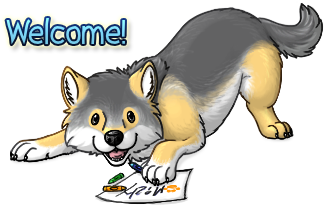 This is a blog, an adoptables site, and a community. But mostly it's just a place where I, as a young wolf pup, can marvel at the fascinations of the world and enjoy the little adventures life has to offer.
The hangout is just a tiny corner of the internet, but I hope you like it. :)

p.s. Have fun exploring! If you have questions here is some Info to Know!
p.p.s. Check out the recent articles in the Lunaryk Post for news!
Adoptions are closed


A new dragon was up for adoption in our latest sale, which ended. Check it out at the Adoption Den!
I've got to tell you about my newest adventure!
Shoutbox
Hey everyone! This is a shoutbox for quick updates and chat :3